EXCEL COLLEGE of Training & Development
---
EIA Entrepreneurial MBA Testimonials

---
What some of our students say about the Entrepreneurial MBA they have recently completed
Personally, I've benefited much from the Entrepreneurship Institute of Australia MBA in Entrepreneurial Management programme.
Before enrolling in the course, I'd always thought that business management or entrepreneurship was just a matter of some fortunate combination of common sense, smart ideas and good luck.
However, after having gone through the many hours of thought-provoking lectures, the often humorous yet stimulating interactions with fellow course mates and lecturers, and the comprehensive and in-depth course materials and textbooks, - yes we actually read them! - I must say my perception and ideas about business creation, development and management have changed completely, for the better.
Entrepreneurship is, to me now, a subtle and sublime expression of both creative art and logical science.
My experience with this excellent MBA programme has helped me to appreciate and grasp the finer aspects of it in both forms in my ventures creation endeavour.
I congratulate and thank the staff and management of Excel College of Training and Development for their vision and dedication in introducing and running this Entrepreneurial MBA programme in Malaysia and highly recommend it to any one aspiring to pursue an MBA degree.
Shawn Low Joo Khun
Country Sales & Marketing Manager
AGENCE FRANCE-PRESSE
KL, February 2006
(Pioneer Batch in Malaysia)
A course on Entrepreneurial Management is the in-thing today. I think the Entrepreneurship Institute of Australia in collaboration with Excel College of Kuala Lumpur is rendering yeoman service to the budding entrepreneurs of Malaysia. The course on entrepreneurship was an eye opener to me and I see things in a different perspective having seen seventy winters to-date. When I am faced with a problem I tend to use the SWOT analysis see the strengths, weaknesses, opportunities and threats. Even among my friends I seem to be looking at opportunities and net working. This did not dawn on me earlier. That is entrepreneurship innovative, creative and opportunity driven.

Touching on the academic staff I was very fortunate to be lectured and tutored by a cohort of dedicated and knowledgeable lecturers. They had academic as well as time tested industrial experience. In fact, their industrial experience stood them in good stead to perform their work in accordance with the high expectations of the Entrepreneurship Institute of Australia.

The office staff was helpful and in particular I would like single out and mention in dispatches the programmes director Mr. Jimmy Peh for conducting the course professionally and efficiently in keeping with the demands of the mature students pursuing the course. The customer is the king anyway.

Coming to the course per se the twelve modules were challenging, invigorating and stimulating to the mind to say the least. The course was examination oriented (80%) and kept Alzheimers disease at bay. The assignment (20%) was topical and practical and was related to work experience. This speaks volume of the course.

The study resources provided had a cutting edge as it was the state-of- the-art material. The lectures, assignments and case study had a good balance between theory and practical focus.

Locating the college in Kuala Lumpur is ideal. The fee structure is competitive and the course on entrepreneurship is much sought after programme and I hope my views would add credence to this EIA Entrepreneurial MBA programme.

My parting words after completing the course successfully would be I am more confident, knowledgeable, entrepreneurship savvy and there is better net working among friends. Now I tend to look at a problem as an opportunity better late than never.

I wish this Entrepreneurial MBA programme everlasting success.

I also wish to express my gratitude to the Entrepreneurship Institute of Australia and Excel College of Training and Development for providing the course in Malaysia.
Ampalavanar Jeyaretna
B.A. (Malaya), M.Ed. Edinburgh, U.K.,
MBA in Entrepreneurial Management (EIA, Adelaide, Australia)
Senior Lecturer
HELP University College
Kuala Lumpur, Malaysia.
I am thrilled to have found the EIA Entrepreneurial MBA as this is actually the type of program that I really needed and was looking for.

As compared to other universities' MBA programs, the EIA Entrepreneurial MBA allows students to be more focused on developing and acquiring sharper business acumen and a wider perspective on industry-related areas.

The syllabus is also geared towards industry-related issues making it more relevant, practical and applied than most of the other academic programs that are available.

In short, the EIA Entrepreneurial MBA is highly recommended and most definitely a prerequisite program for fostering entrepreneurship, innovation and creative skills.
Ahmad Fazreen
General Manager
DAHE Industries (M) Sdn Bhd
2nd May 2006
I wish to take this opportunity to express my gratitude and congratulate Excel Open Learning & Excel College for being the first to launch this unique Entrepreneurial MBA in Malaysia.
The Entrepreneurial MBA, which I have conscientiously and diligently learned over the last 12 months, is the final capping to my present set of qualifications and has equipped me with an immense pool of knowledge and skills.
Throughout the course duration, I have made several observations of which I am proud to put on testimonial. These are:
The course syllabus is very comprehensive, with latest edition of reference textbooks, supported by additional yet relevant subject articles as reading materials for the individual subject module.
The in-class learning provide further learning experience led by experienced facilitators, who are also practitioners in the respective subject field, and the participation and sharing of knowledge amongst the students have provided wider perspective of the topic beyond the academic text.


The assessment by written examinations and assignment at the ratio of 80:20 marking system provides a fair and just reflection of how the students knowledge and skills are assessed. The written examinations is a test of the application of the subject principles and knowledge acquired during the class apart from the individual students workplace experience, while the assignment provide a exercise in preparing strategic proposals, analytical reports and/or mini research in accordance to the differing module questions respectively.
The stringent guidelines set by EIA has provided good discipline and control over the quality of the course delivery and assessment, while the Excel College has shown non bias attention over the individual students study needs and performance throughout the duration of the course programme.
Overall, the learning outcome has shown me the crystal clear picture of the interpretation and importance of entrepreneurship and intrapreneurship skills, which provides the cutting edge to stay competitive in the present fast pace changing business world that has also become smaller. Indeed, the invaluable experience, and the newly acquired diverse skills and knowledge has added value to my present professional career.
I would not hesitate to recommend to anyone who seeks to advance oneself, whether in Entrepreneurship or Corporate Intrapreneurship, to register with this highly successful and Australian government accredited programme.
Ong Seng Huat
Bachelor of Jurisprudence, ACIS
Principal
SH Ong Management
5th May 2006
Joining the Entrepreneurship Institute of Australia, Masters of Business Administration (in Entrepreneurial Management) through Excel College of Training & Development is the best decision I have made.
There was no pressure, the time consumed was fair and most suitable for busy working executives like me. Learning was very interactive and interesting, real life events were very much discussed in the classroom, principles and methodologies were translated into application techniques and examples of case studies were sufficient. Personally, it was also an opportunity to network.
While working in a Training Center for a Multinational Petroleum Company as an Organizational Improvement Senior Executive, I dealt and interacted with talented, experienced and knowledgeable group of people. This Entrepreneurial MBA help provided me with an ability to mesh together real-world venture skills with formal methodologies, principles and theories through formal learning - an unparalleled combination for the 'real' business world.
As I aspired to be A Global Champion it is imperative that as the organizational improvement senior executive, I am able to Think globally, cooperate globally, and organize internationally. This is where the Entrepreneurial MBA gave me that extra edge.
I have learned a great deal about Entrepreneurship (& Corporate Intrapreneurship), Strategic Finance, New Venture Creation, Globalization & Entrepreneurship, Strategic Human Resource Management, Franchising, Strategic Marketing, Strategic Operations Issues, Strategic Management, Leadership, Legal & Social Issues (Corporate Governance) throughout the Entrepreneurial MBA program. This program enabled me to translate the learning into actionable terms that helped me internalize the principles. Now, I feel confident in suggesting new ideas in my own company in the above areas. I am no longer narrowly focused on a single subject, but I am truly able to function as a change agent for my organization.
I really can't tell you how this program has helped me look at things differently in my work. In short, being able to do this Entrepreneurial MBA with Excel College provided me with invaluable knowledge and experience that has taken me further and higher in my career.
While I was still pursuing my study, I was able to facilitate 22 transformation projects, led several strategic initiatives in my company to full completion.
I felt that this complemented my desired growth as a corporate entrepreneur. It allowed me to gain insight about running a multi-national organization, managing growth and creating innovative solutions for the business. In short, being able to do an Entrepreneurial MBA in Excel College of Training & Development provided me with invaluable knowledge and experience that will undoubtedly help me to become an effective Corporate Intrapreneur.
Faridah Hanim Haron
Organisational Improvement Senior Executive
Petronas Management Training Sdn Bhd.
(Pioneer Batch in Malaysia)
Entrepreneurial Management skills are not only crucial for the entrepreneur but also essential for the corporate entrepreneur as well.
Termed as intrapreneurship in the corporate world, it propels the corporate world to change faster, as the competition grows fiercer and globalization progresses and becomes wider. In this context, the corporate intrapreneur not only must be Above The Rest but has to be Beyond The Best in the pursuit of success.
The expertise I obtained through this Entrepreneurial MBA has sharpened my focus, depend my faith, heightened my expectations, lengthened my staying power and helped enhance my skills as an intrapreneur in the corporate setting.
Personally I have benefited from the Entrepreneurial MBA programme and it has helped sharpen and enhance my skills not only for the corporate job which I held earlier but has also helped me tremendously now as I have just ventured into my own business and I am now a full-time entrepreneur.
Because of the entrepreneurial development training that I had undergone, I am able to adapt effectively and stay competitively in my new business venture.
I have enjoyed and benefited very much from this Entrepreneurial MBA programme from EIA (Entrepreneurial Institute Australia). This special programme has really helped in further nurturing the entrepreneurial skills within me.
I strongly recommend this unique Entrepreneurial MBA programme from EIA to all corporate executives and managers as well as to all entrepreneurs and aspiring entrepreneurs.
Jason Tang
Raysis Asia Sdn Bhd
Perai, Penang
Malaysia
I found that obtaining this Entrepreneurial MBA from Australia in such a short period of time ie in 12 months is the most challenging & rewarding experience in my career. It enabled me to discover my passion in life.
The MBA in Entrepreneurial Management from Entrepreneurial Institute Australia (EIA) offered the right mix of entrepreneurial theory & practice. This course met my expectations & broadened my understanding of General Management & Intrapreneurial Management Issues.
After completing and graduating from this Entrepreneurial MBA, I now find it easy to apply it in my work as a Corporate Intrapreneur.
For those still thinking and harbouring the ambition of studying for an accredited MBA, I strongly recommend you to embark on the Entrepreneurial MBA as you too can become a successful Corporate Intrapreneur in the near future!
Finally, I wish to thank Excel Open Learning for making this unique MBA programme available in Malaysia
Fanny Ng
Nestle Malaysia
What participants from Australia say...
There is an excellent approach to balancing work, study and family commitments which follows through on the "adult learning" promise. The requirement to apply learning against your workplace and previous experience, and apply a logical debate between the two is a very effective learning style for me.
Paul Moroney - Senior Manager,
The Mortgage Company (Westpac)
The Gibaran Learning Group MBA forms part of Australia Post's succession planning and executive dvelopment for senior managers. We currently have 3 managers undertaking the program.

Arch Stevenson - State Manager, Human Resources
Australia Post (South Australia / Northern Territory)
Gibaran Learning Group MBA offers an excellent environment that is sensitive and flexible to my individual learning needs. The academic guidance and support is first rate. I have achieved much more in terms of learning and academic results with Gibaran Learning Group than any other institution. The academic support team is highly qualified and has a wealth of experience.
Michael Coughlan - Manager, Indigenous Issues
Normandy Mining

The following are companies in Australia (& in Malaysia) whose staff have studied or have been sponsored for the Gibaran Learning Group (GMI & EIA) Management & MBA programme :
Australia Post
Australia Red Cross
Santos Limited
South Australia Ambulance Services
Department of Education, Training and Employment
South Australia Metropolitan Fire Services
South Australia Tourism Commission
EDS
Westpac Banking Corporation
Newmont Mining
South Australia Community Housing Authority
Australia Institute of Management
The Australian Institute of Export
Aboriginal & Torres Strait Islander Commission
Aboriginal Employment, Education & Development Branch
Anangu Pitjantjara Land Council
Internal Revenue Commission ( Papua New Guinea)
Eastern Pretech Pty Ltd (Singapore & Malaysia)
Global Carries Bhd (Malaysia)
University Malaysia Sarawak (Malaysia)
Chief Minister's Department, Sarawak (Malaysia)
---
Other MBA Testimonials

---
What Excel College's past participants say about our MBA Programme...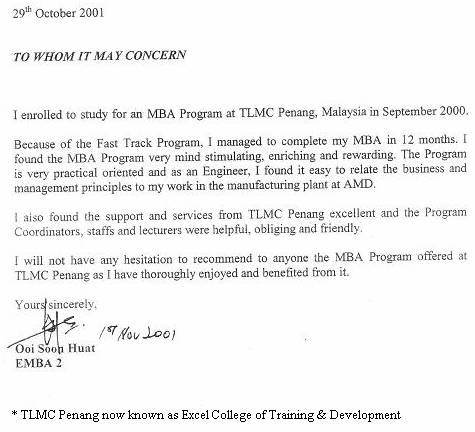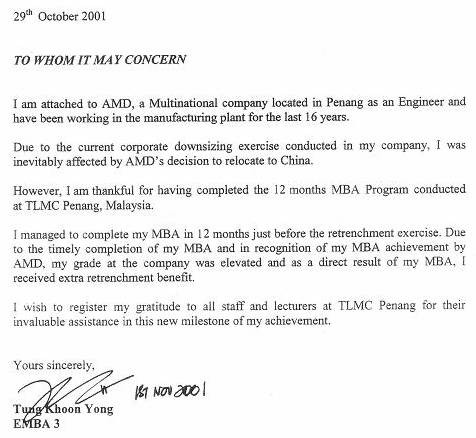 ---
Our Entrepreneurial MBA students are working or have worked with the following organizations:

---
1. AKN Industries Sdn Bhd
2. BAX Global Sdn Bhd
3. STAR Publications (M) Bhd - Penang
4. STAR Publications (M) Bhd - Kuala Lumpur
5. Kavaq Business Intelliegence
6. PETRONAS Management Training Sdn Bhd
7. Binary Consolidation Sdn Bhd
8. HELP University College
9. Atlas Defence Technology Sdn Bhd
10. Nestle Products Sdn Bhd
11. Nestle Foods (M) Sdn Bhd
12. Training House
13. Sapura Transmission Sdn Bhd
14. AFP - Agence France-Presse (Asia-Pacific)
15. Malaysia Investment Development Authority (MIDA)
16. Menara Kuala Kumpur Bhd (Telekom Malaysia Group)
17. WTD Logistics
18. MPSI Holdings Berhad
19. Matheson PF Consultants
20. ICI Paints (M) Sdn Bhd
21. Berjaya General Insurance Berhad
22. Uganda Coffee Beans
23. Solectron (M) Sdn Bhd
24. Syarikat Lui Kim Chock Sdn Bhd
25. Prudential Assurance Malaysia Bhd
26. Malaysia Airlines
27. Singapore Airlines
28. Malayan Banking Bhd
29. HSBC Bank Malaysia
30. DAHE Industries (M) Sdn Bhd
31. IMC Management (M) Sdn Bhd
32. Golden Hope Plantations Bhd
33. NSK Group
34. Aliz Trade Sdn Bhd
35. Jaybees Print Industries Sdn Bhd
36. Vivar Printing Sdn Bhd
37. Jannock Sdn Bhd
38. Innasaba Sdn Bhd
39. Mustika Murni Resources
40. IMA Network (M) Sdn Bhd
41. ASE Electronics (M) Sdn Bhd
42. Gracepins Industries (M) Sdn Bhd
43. Avery Good Deal Ventures
44. Yayasan Usaha Maju
45. Dorsett Regency Hotel
46. Matunggung Economic Development Cooperative
45. SICPA Malaysia
46. Musttie Sdn Bhd
47. Asia File Bhd
48. YPC (Malaysia) Sdn Bhd
50. S H Ong Management
51. Delifrance Malaysia
52. PAN Sarawak Co.
53. Adonay YHWH Sdn Bhd
54. Penang Swimming Club
55. Menara DION, KL
56. Diethelm Borneo Expeditions S/B
57. DIGI Telecommunications S/B
58. SKM Business Management
59. Global Management Technology Training S/B (Maju Holdings)
60. Paradise Travel & Tours (PG) Sdn Bhd
61. Creative Human Synergy
62. Spiral Hospitality / Summerset Hotel & Resort Mgmt
63. Pepsi Co International
64. BP Petroleum (Malaysia) Sdn Bhd
65. Hexagon Distributors Sdn Bhd
66. Varitronix (M) Sdn Bhd
67. SBF Training & Consultancy Sdn Bhd
68. Dart Air Express (Pg) Sdn Bhd
69. MG Rover (Brooklands Motors Sdn Bhd)
70. INTEL Technology Sdn Bhd
71. Jerneh Insurance
72. Scientific Adwa Sdn Bhd
73. Oriental Capital Assurance Bhd
74. QL Distribution Sdn Bhd
75. Mkini Dotcom Sdn Bhd
78. One Step Management Consultant Sdn Bhd
79. Volvo Malaysia Sdn Bhd
80. DSC Medico Sdn Bhd
81. Focux (M) Sdn Bhd
82. INNOSABAH Securities Bhd
83. BAX Global Sdn
84. Sharafath Jewels Sdn Bhd
86. Sri Mekar Cafe
87. Big Wheel Group of Companies
88. Residence Hotels & Resorts
89. Holiday Inn Glenmarie
90. Bumiputra Commerce Bank (BCB)
91. Finisar Malaysia Sdn Bhd
92. Instant Group of Companies
93. AOS Conventions & Event Sdn Bhd
94. Klinik & Surgeri Hilltop Sdn Bhd
95. Lojingki Sdn Bhd
96. Prescott Hotel
97. Association of Merchant Banks in Malaysia
98. Johor Port Berhad
99. TridonicAtco
100. Kelab Teluk Warisan
101. Ken Air Malaysia
102. Beinggis Marina & Tours Sdn Bhd
103. Sri America Travel Corp (J) Sdn Bhd
104. Language Enrichment Centre
105. M/S Tay & Partners
106. Geniki Lines Sdn Bhd
107. Sinojaya Agri-Products Agency
108. Vistana Hotel Kuala Lumpur
109. General Mercantile Enterprise
110. TAB International Pte Ltd
111. Pelangi Beach & Spa Resort-Langkawi
112. Legend Hotel Kuala Lumpur
113. The Rizqun International Hotel,Brunei
114. Gagasan Johan Sdn Bhd
115. Alpris Enterprise
116. Mayflower Acme Tours
117. The Zone Hotel KL
118. Real Holidays Sdn Bhd
119. Ultra Mind ESP Systems
120. ECC International Sdn Bhd
121. Sabah Foundation
122. Sime Kubota Sdn Bhd (a division of Sime Darby)
123. Airod Sdn Bhd
124. IMG Travel & Tours Sdn Bhd
125. Villatab, Cherating
126. The Datai Langkawi
127. Multi Motors Sdn Bhd
128. Camelita East Sdn Bhd
129. Langkawi Saga Travel & Tours Sdn Bhd
130. Haikal Jurutera Perunding Sdn Bhd
131. Mayban, Sabah
132. Desa Kita
133. MTS Fibromat (M) Sdn Bhd
134. Golden Class Technologies Sdn Bhd
135. ADC Borneo Sdn Bhd
136. Agilent Technologies (M) Sdn Bhd
137. Kolej Lagenda
138. EON Bank
139. Sita Wire & Cable (M) Sdn Bhd
140. SMI Ventures
141. Price Waterhouse Coopers (PWC)
142. Victorious Life Mission Bhd
143. Ikram Libyana Sdn Bhd
144. Magna Mission Sdn Bhd
145. Amanah Raya
146. Malaysian Technology Development Corp (MTDC)
147. Elsevier Health Science
148. ICI Malaysia,KL
149. Centre Point Hotel
150. Penang Yacht Club
151. Health Sciences Asia Pacific
152. Sime Darby Bhd
153. Malaysia Tourism Promotion Board
154. The Language Studio
155. Hitachi Construction Machinery
156. Senshin Seimitsu Sdn Bhd
157. Winnie Motor Enterprise
158. Gang Media Sdn. Bhd.
159. The Boulevard Hotel
160. Bursa Malaysia (KLSE)
161. Issac Consulting
162. USL Educational Supplies (M) Sdn Bhd
163. Seri Cempaka Service Suites
164. Sime Darby Property Berhad
165. IFP Ventures Sdn. Bhd.
166. UCB Pharma Asia Pacific S/B
167. Pangkor Island Beach Resort
168. IBM
169. Public Bank
170. Legenda Edu Group
171. Akmal Sdn Bhd
172. Walton International
173. POIC Sabah
174. Sabah Foundation
175. Great Eastern (M) Bhd
176. CIMB Penang
177. Ave Management Services
178. Kulicke & Soffa Pte Ltd
179. Malaysian Assurance Alliance Bhd
180. Flamingo International College
181. ITD
182. Mofaz Dagang Sdn Bhd
183. DKSH Holdings (M) Bhd (Diethelm Holdings Malaysia)
184. Intel MicroElectronics
185. University College Sedaya International
186. LKL Global Sdn Bhd
187. Khin Guan Corporation
188. K.K. Dinamik Sdn Bhd
189. BIMS International Sdn Bhd
190. Smart Learning Webucation
191. CitiBank Kuala Lumpur
192. Ancient Woods Sdn Bhd
193. Grand Dorsett Labuan
194. Klinik Kota Belud
195. Sinar Sinssuran Sdn Bhd
196. BCB Management
197. Maybank Sandakan
198. Istana Hotel
199. Kitaras Entrerprises S/B
200. Golden Pharos Glass S/B
201. DemChem Ind. S/B
202. McKinnan & Clarke
203. Premium Vegetable Oil S/B
204. F & N Coca-Cola Malaysia Sdn. Bhd.
205. Great Eastern Life Assurance Malaysia (KL)
206. Honda Malaysia Sdn. Bhd.
207. Bayu Beach Resort
208. Gleneagles Medical Medical Centre (PG)
209. Dynivest Progress Sdn. Bhd.
210. Dell Asia Pacific
211. Zouk Club, KL
212. International College of Music
213. David Liew Architect
214. Intel Technology S/B
215. Classic Advantage Sdn Bhd
216. Flextronics Technology (M) S/B
217. Messrs. Rakhbir Singh & Co.
218. Dayang Pastry
219. Alliance Bank
220. SP Astria
221. Point D' Beaute Academy
222. Sarawak Tourism Board
223. Puteris Wedding Planner
224. Courts Mammoth Berhad
225. Malaya Glass Products Sdn Bhd
226. Yick Hoe Metal Industries Sdn Bhd
227. Rittal Systems Sdn Bhd
228. Ferdinand Enterprise
229. Public Mutual Bhd
230. MasterSkills University College of Health Sciences
231. Department of Civil Aviation
232. The Palace Hotel, Kota Kinabalu
233. RHB Bank
234. Berjaya Times Square Hotel & Convention Centre
235. One World Hotel
236. Travel Mark Holidays & Tours
237. See Hoy Chan Group
238. Park Royal Hotel
239. American Express
240. PTP Port
241. Diners Club
242. PROTON M'sia
243. International School of Kuala Lumpur
244. Inti College
255. Polis DiRaja Malaysia
256. Qi Services (M) Sdn Bhd
257. GCB Foods Sdn Bhd
258. Proton Sdn Bhd
259. Jalinan Rakyat
260. Fundex Sdn Bhd
261. Maxis Mobile Services S/B
262. HSBC Bank
263. Sanyo
264. Path Solutions KSCC (M)
265. Corporate Dynamics Sdn Bhd

2004 Excel College